Our effective ant control methods eliminate the problem and prevent future infestations.
When seen from an educational standpoint, ants really are amazing. They can lift objects much heavier than their own body weight and leave a trail in the woods, so they never get lost. Another interesting thing about ants is their determination to ensure the survival of their colonies. When a foraging team doesn't return, the queen gets quickly to work on creating more ants. That is why when you use DIY ant control methods, you usually end up with a bigger problem at your Ocean Township, New Jersey home. The new recruits simply follow the trail their fallen comrades took and you are back to square one.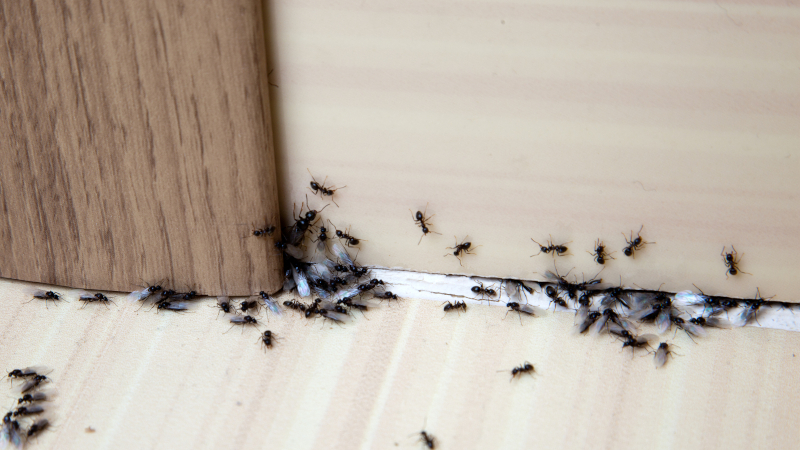 At RZ Termite & Pest Control, we recommend turning your ant problem over to us. Our ant control methods work to eliminate the colony by killing the queen. Any of the ants that didn't get the same poison soon die off without the guidance and reproductive abilities of the queen. The other thing to know about our pest control services is that, with ongoing preventative measures, we can create a barrier around your home that keeps any new ant colonies, as well as other pests, from entering in the first place.
We also want to share with you that it isn't just nuisance ants crawling on your counters in search of crumbs that you should be concerned about. Carpenter ants are also common in this area. They are wood-destroying insects much like termites, so it is critical to employ ant control measures to avoid damage to your home. If have questions about our ant control and other pest control services, don't hesitate to reach out to us. Our services are 100% guaranteed. No Ifs, Ants or Bugs About It!
---
At RZ Termite & Pest Control, we offer ant control services in Ocean Township, Manalapan, Brick Township, Jackson Township, Toms River, Long Branch, Rumson, Colts Neck, Asbury Park, Monmouth Beach, Eatontown, and Neptune, New Jersey.
Similar Services We Offer: